Bulls & Bears Video Slot Review at Intertops Casino
Bulls & Bears is the newest
RTG
video slot for your entertainment. You can play this game at
Intertops Casino
.
A Wall Street based slot game, this is a great way to beat the stock market without investing your life savings! I
just love
new slot games
.
Bulls & Bears is a 5 - reel, 25 - line video slot. You can bet anywhere from 25 cents a spin all the way up to a
whopping $125! Look what I got when I was playing for free and hit the Max Bet spin ($125) As you can see,
if you are brave enough to bet big, you could find yourself
cashing out
some BIG BUCKS.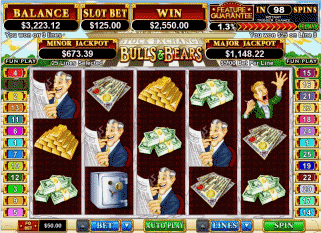 The images are all pretty familiar stock market symbols most of us have seen before. There are the Bulls and
the Bears of course, but there are also the Stock Certificates, the Stock Ticker Tape Machine, the Gold the
Fancy Cars and other objects you would associate with Stocks and Wall Street.
The Bull and the Bear are actually both Wild Symbols in this video slot. The Bull only appears on Reel 2 but
will substitute for all other symbols including the Scattered Charts. The Bear only appears on Reel 4 and also
will substitute for all symbols including the Charts. This is highly unusual. Usually the Wild Symbols will substitute
for all symbols EXCEPT the Scatter Symbol. Your Prize is doubled when combined with one of the Wild Symbols
and quadrupled with both!
Getting 3, 4 or 5 Scattered Charts from left to right, you will get 5, 7 or 15
Free Spins
respectively. You will then
get your choice of Buy (Bull) or Sell (Bear). If the one you chose shows up during your Free Spins, you will get
an extra game for each time it shows up. During these Free Spins all prizes are tripled. The Scattered Charts will
not show up in these free games.
Bulls & Bears includes the Feature Guarantee Game. The Feature Guarantee means that you are guaranteed to get
the Featured Game within a certain number of spins. If you reach that number without the Feature, it will
automatically be given to you to play. If you have not reached that number yet and want to try for the Feature
Game, there is an Instant Trigger button you can push and according to the number of spins you have to try for it
sooner.
This game was really fun. I do wish with these newer games though they could include even more bonus rounds.
The only Bonus Round you get in this game is the chance for Free Spins. I like the ones with a little more options for
bonuses. I would play this game again though as I did get the free spins enough to keep trying.
Be sure and check out this video slot game at
Intertops Casino
. They offer a great Welcome Bonus of 100% Bonus
up to $100.
​
Last edited: