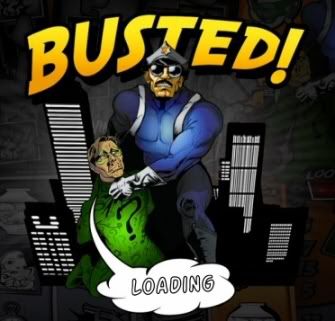 BUSTED
​
WINADAY CASINO
has put a whole new twist on the childhood game Cops & Robbers with their new 17 payline video slot Busted.
I started out playing this game in
free mode
but soon became addicted to it and opened a new player account, also taking advantage of their
200% deposit bonus
for new players.
Busted actually consist of three games, the regular slot machine game, the double up bonus game and the cops and robbers bonus game
Regular Slot Machine Game
​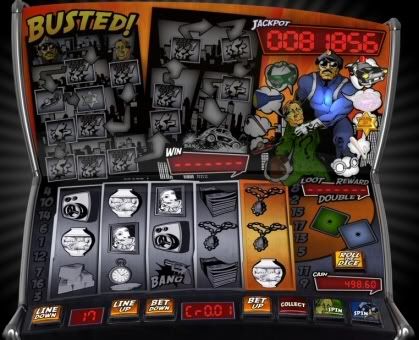 ​
In the
regular slot machine game
, you can play between $0.01 and $4.00 per line. There are two spin buttons to choose from, one for the cop and one for the robber. You collect special symbols along the way and can choose to be a cop or a robber at anytime but can only collect the symbols that coincide with the spin button you are playing at the time. Once collected the special symbols will take you to the cops and robbers bonus game which I will explain later.
Double Up Game​
On the far right reel is a double up symbol, when this is triggered along with a win, you have your choice of doubling up to increase our winnings or you can simply choose to not to play but selecting collect. You may continue to play the bonus round as long as you are winning in the round.
Cops & Robbers Bonus Game​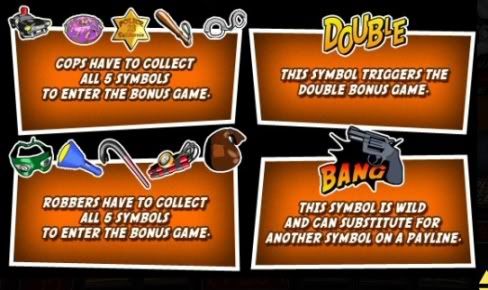 Remember I talked about the special symbols you can collect in the regular slot play? When you spin as a
robber
you can collect special symbols for the robber and same when you spin as the cop, once you have collected the required amount of symbols for a character you enter this bonus game. The game consists of the cop chasing the robber and of course the robber trying to get away from the cop. The robber has the advantage however because he gets to roll the dice first. During the chase the characters may step on a field that increases your
rewarded/loot amount
or they may step on a field that gives you free spins x1 x2 or x3. There are also fields that allow you to collect the special characters.
Winaday Casino Reviewed
All in all I like this game, although I did find that I seemed to have more bonus wins playing in
free mode
, however I will most likely deposit and try it again.​
Last edited by a moderator: