<center><table width="90%" cellpadding=30 cellspacing=0 border=2 bordercolor=black background="http://img.photobucket.com/albums/v41/dani3839/backgrounds/tanmarblebackground11.gif"><tr><td width="100%"><p><center><table width="100%" border=2 bordercolor=black background="http://img.photobucket.com/albums/v41/dani3839/backgrounds/white.jpg "><tr><td width="100%" align="center"><CENTER>
<a href="http://www.gowildcasino.com/landings/wwp/50fs_150_1000_streak.html?isClick=true&bTag=th365241_aff"> <img src="http://img.photobucket.com/albums/v600/judyb57/50FSthund2_livechat_playnow468x603.gif" border="0"/> </a>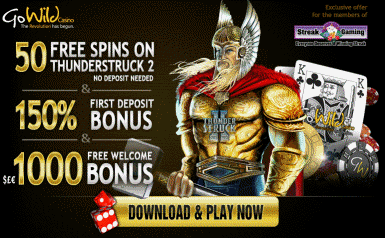 We have another great
Exclusive offer just for Streak Gaming members!

Go Wild Online Casino is offering all New Players
50 FREE SPINS on Thunderstruck2
Plus 150% First Deposit Bonus! (Max bonus is 300)





This Promotion is for New Players Only (Sorry No U.S) you must
download from our banners to be eligible. Click the banner in this post
and *follow instructions on the landing page.

*You MUST claim this through
their support as the instructions state. These are not automatic and need to be added by the casino!





Once you have downloaded and opened a New account, come
back and post your ID below!

IMPORTANT: You must be a New Player and download from
the banner in this post or you will not be credited.

Good luck and Have Fun!

<a href="http://www.gowildcasino.com/landings/wwp/50fs_150_1000_streak.html?isClick=true&bTag=th365241_aff"> <img src="http://img.photobucket.com/albums/v600/judyb57/50FSthund2_livechat_playnow468x603.gif" border="0"/> </a>
</p></table></tr></td></table></span></center>
Last edited: