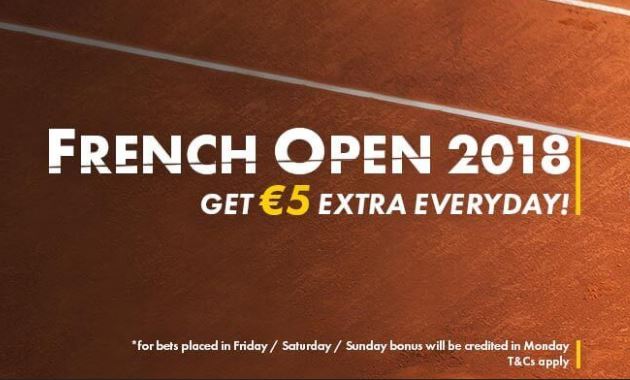 Get €5 extra everyday
If you love tennis, you're going to love this offer! Get up to €5 extra per day, when you place LIVE bets on the 2018 French Open!
That's up to €65 extra over the promotional period!
Prepare for amazing action in Paris, at the most prestigious tennis Grand Slam tournament!
To qualify, on the same day place 2 LIVE bets (on 2 different games), with a minimum stake of €10 each and minimum odds of 1.75 per bet.
You will get your extra bonus whether you win or lose your LIVE bets!
Promotion valid from 27th May – 8th June at Energy Bet
<a href="https://ads.energycasinopartners.com/redirect.aspx?pid=7109&bid=3200"><img alt="" src="https://ads.energycasinopartners.com/renderimage.aspx?pid=7109&bid=3200" border=0></img></a>
​