Horns And Halos Video Slot Reviewed at Intercasino




Horns and Halos is one of the newest video Slots to hit the scene at Intercasino! Intercasino Powered By Crytologic



Horns and Halos is a 15 - line slot with six reels over all. Three of them are
Heaven and three of them are Hell. You get to choose what side you would
like to play on and the great thing is you can change sides whenever you
like, that doesn't happen often, lol. You only get paid for the side you chose
though.

The slot includes Devils, Horns, Angels and Cherubs for the best of both
worlds. You get a chance with this game to be Naughty AND Nice!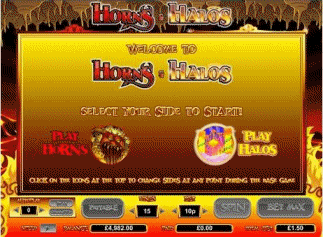 The top prize for this game is a whopping 1,000X, and you earn Heaven and
Hell Gates as you spin the reels. Collect 10 Gates from either side and you win
10 free spins with an increasing multiplier!

HORNS AND HALOS FEATURE

Every time you get a Heaven Gate or a Hell Gate on your chosen side it is
stored. If you switch sides, accumulated Heaven Gate or Hell Gate symbols
are carried over. Once you collect 10 Heaven Gate or Hell Gate symbols, you
are awarded 10 FREE games.





Every time an Angel or Devil appears on your chosen side, a fight occurs.
If your side wins, the displayed multiplier increases by one.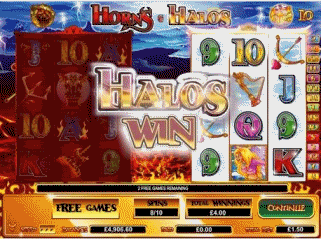 Collected Heaven Gate and Hell Gate symbols are not carried over between
play sessions and the Horns and Halos feature can not be retriggered.

​
Last edited by a moderator: