Mega Jackpots Monopoly™ Oline Slot Review - IGT
Mega Jackpots Monopoly™ is a 5 reel 9 payline video slot with one of
the largest jackpots available and is available at Money Gaming Casino
and powered by IGT Gaming. This online video slot features two bonus
features the first is the Pass "GO" Bonus which allows players to play one
of the world's most popular board games for lots of cash, and the second
is the Chance Win Spin Bonus which gives players free spins! All symbols
pay left to right except for the Chance Win Spin Bonus scatter symbols,
which can be anywhere. The minimum bet amount is 5 cents and the
maximum bet amount is $225 per spin.



The Mega Jackpots symbol is the wild symbol but does not substitute for
the Chance Win Spin Bonus symbol or to activate the Chance Win Spin
Bonus Feature game. To win the jackpot, players need to line up five
Mega Jackpot Symbols on the centre payline playing maximum bet.
The Jackpot can be won from within any Win Spin Bonus free spins, if
that bonus was triggered with the maximum bet played. The Mega
Jackpots wild symbol substitutes for all other symbols except for
the Chance Win Spin Bonus, and the Pass Go Bonus symbol.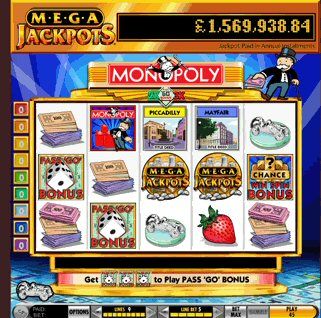 The Pass Go Bonus, and the Chance Win Spin Bonus symbols are scatter
symbols and they only appear on reels 1, 2, and 3. Three Pass Go
Bonus scatter symbols will trigger the Pass "GO" Bonus Feature. To
be eligible for the Chance Win Spin bonus players must bet all lines. When
players trigger the Pass "GO" Bonus Feature, they will get to select one
of the three Pass Go Bonus symbols to determine how many times they
may roll the dice in the bonus round. Each Pass Go Bonus symbol reveals
a different number of dice rolls, ranging from 1 to 6. After the number of
rolls is revealed, players are taken to the Monopoly Bonus Board, where
they roll the dice to collect bonus winnings. Players move their game piece
along the Monopoly Board in a clockwise direction the same numbers of spots
as the sum of the dice roll. Players are awarded a 10 to start off the bonus.

The Chance Win Spin Bonus scatter symbols only appear on reels 3,
4, and 5 and three or more scattered anywhere on those reels will
trigger the Chance Win Spin Bonus Feature. Players must be betting
n all 9 paylines to qualify for the Chance Win Spin Bonus Feature.
When players trigger the Chance Win Spin Bonus Feature, they are
asked to select one of the three animating Chance Card symbols to
determine the number of Win Spins they will receive. Each Chance
Card reveals a different number of Win Spins, ranging from 2 to 4.
After the number of Win Spins is revealed, players are taken to the
Win Spin Bonus screen. A large slot machine handle appears on the
right side of the reels and Mr. Monopoly leaps down and pulls the handle
for the player. All of the reel spins in the bonus are free and automatic.

Mr. Monopoly keeps giving players free spins until they have a winning
reel outcome, if this does not occur within 7 spins, then a special Lucky 7
Bonus award of 10 times the triggering bonus bet is awarded. Once
players have a winning outcome, Mr. Monopoly repeats the process until
players earn a win for each of the remaining Win Spins. The Chance
Win Spin bonus Feature cannot be retriggered however players can
trigger the Pass GO Bonus Feature. Also, the Mega Jackpots Jackpot
can be won from within the Win Spin Bonus if that bonus was triggered
with the maximum bet played. When the Chance Win Spin Bonus
Feature game is complete, players are returned to the regular game.

New players to MoneyGaming Casino are eligible for a £300
Welcome Bonus.

<!-- Affiliate Code Do NOT Modify-->
<!-- End affiliate Code-->
​
Last edited: