Poker Rooms Offer Tax Relief with $1K Tax Day Freeroll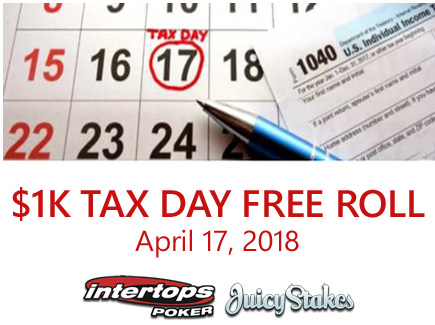 St. Johns, Antigua (Press Release) – It's Tax Day in America next week and to ease the pain
of paying income tax Intertops Poker and Juicy Stakes Poker are
holding a $1K Tax Day Freeroll on Tuesday, April 17.

"Paying taxes is never fun so this year we decided to give everyone something to take
their mind off it," said Intertops Poker's manager. "Instead of being grumpy the day you
pay your taxes you can look forward to a mega freeroll. Pay nothing to enter, maybe win $1000!"

Not just anyone can join this tournament. A four-part access code will be required to
register for the event. Parts of this code will be sent out via the casinos' newsletters.
Other parts will be published on their social media pages.

Players not currently receiving the poker rooms' newsletters should contact Customer
Support to be added to the email list.

<iframe class="tscplayer_inline" name="tsc_player" src="https://secure1.securewebexchange.com/lyceummedia.com/streak/180413/180413_player.html" width="640" height="360" scrolling="no" frameborder="0" webkitallowfullscreen mozallowfullscreen allowfullscreen></iframe>



$1K Tax Day Freeroll



Tuesday, April 17th
9:10 pm EDT (Wednesday 3:10 am CEST, 11:10 am AEST)
Four-part password required to register.

Intertops Poker and Juicy Stakes Casino rule the busy Horizon Online Poker Network which
attracts all kinds of players from all over the world. They also have slots and other
games from Betsoft, World Match and Lucktap.

Further information can be found at Intertops Poker Promotion Room
and Juicy Stakes Poker Promotion Room.

<a href="http://link.intertops.eu/c/391208/5179" target="_blank" ><img src="https://affiliate.intertops.eu/391208/uploads/banners/itpk_468x60_1602.gif" /></a>
<a href="http://www.juicystakes.eu/?t=bonustreak&Lang=en"><img style="border: none;" src="http://affiliates.juicystakes.eu/Server/Banner.ashx?i=ban_pk_js_468x60.gif&t=bonustreak" alt="Deposit Bonus 200% up to $1000"/></a>​
Last edited: