<!-- Affiliate Code Do NOT Modify-->
<!-- End affiliate Code-->
ROARING TWENTIES BINGO
Intertops Casino
is one of the first casinos to introduce
Roaring Twenties Bingo
on the
Real Time Gaming (RTG)
platform. Although I am usually only a slot player, I did like the look and feel of this 90-ball bingo game when I gave it a good try. Did you check out
the progressive random jackpots
? There are three of them; you stand a chance at winning a Minor Random Jackpot, a Major Random Jackpot and a Maxi Jackpot, which currently stands at $10,166!
High-rollers will have a ball with
Roaring Twenties Bingo
, which allows a maximum bet of $500 per draw. First, you have to select the amount you want to wager, which ranges from $0.01 to $5.00 per card. Next, you can select up to 100 draws and choose up to 100 cards. The cards will be automatically selected. When you've chosen to play more than one draw, you can always press STOP DRAWS on your left to halt additional draws. For your convenience, you can change the number of draws and cards in portions of 10 by clicking on the double arrows. Small betters (like me) may want to start with a total bet of $0.20 by selecting $0.01 per card and playing 20 cards per draw.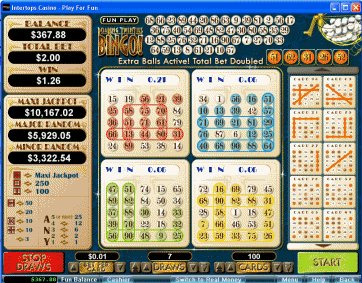 Your best four cards are shown in the centre of the screen. Click on START and watch the cards fill up with numbers from 1 to 90. There is also a turbo feature to accelerate your game play. If you look at the top of your screen, you can see all the balls drawn.
This game also features a Wild Ball, and if drawn, it will appear in the centre spot on every card.
At the end of the draw, each centre card will reveal the highest amount that you've won, depending on the patterns that you've achieved - and you'll see the total amount won in the top-left corner. All prizes are multiplied by your bet per card.
You can also play with 5 Extra Balls by clicking on the "Extra Balls" feature on your left.
After the regular draw, 5 additional balls will be drawn, which
will appear in the top-right corner. If you choose to play this feature, your total bet will be doubled.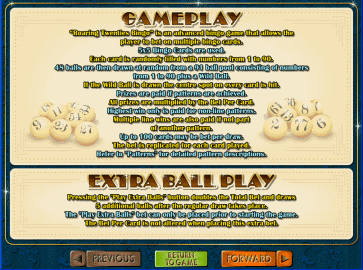 Now, the minor and major jackpots can be randomly triggered at the conclusion of any game. But when it comes to winning the maxi progressive jackpot, you must have achieved a full card to bring in the big loot. And that's not all: if you happen to achieve a full card more than once in one draw, the subsequent cards will award 10,000 times the minimum bet per card on top of the progressive maxi jackpot!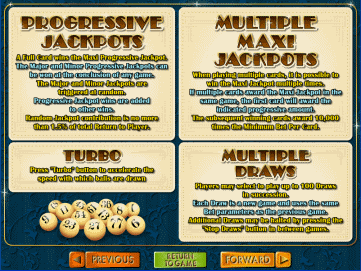 Roaring Twenties Bingo features 20 different bingo card patterns, which include full house, outside box, "I", "H", "X", inside box, cross and corners. Any vertical or horizontal line will also pay out up to 25 credits, depending on the number of lines you've achieved. The outside box and "I" patterns pay out the next highest amounts of 250 and 100 times your bet per card respectively. You can view the patterns that you've achieved in the down-left corner and on the cards themselves, it's fun to watch!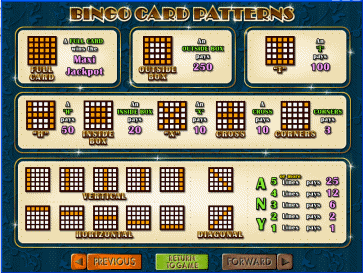 I like the straight-forward graphics of Roaring Twenties Bingo and the game plays pretty fast when you've clicked three times on the Turbo button. Let me know if this game strikes your fancy - and don't forget to take advantage of the
100% Match Bonus up to $100
when you make your first deposit at Intertops Casino.
<!-- Affiliate Code Do NOT Modify-->
<!-- End affiliate Code-->​
<input id="gwProxy" type="hidden"><!--Session data--><input onclick="jsCall();" id="jsProxy" type="hidden"><input id="gwProxy" type="hidden"><!--Session data--><input onclick="jsCall();" id="jsProxy" type="hidden"><input id="gwProxy" type="hidden"><!--Session data--><input onclick="jsCall();" id="jsProxy" type="hidden"><input id="gwProxy" type="hidden"><!--Session data--><input onclick="jsCall();" id="jsProxy" type="hidden"><input id="gwProxy" type="hidden"><!--Session data--><input onclick="jsCall();" id="jsProxy" type="hidden"><input id="gwProxy" type="hidden"><!--Session data--><input onclick="jsCall();" id="jsProxy" type="hidden">
Last edited by a moderator: