Joined

Feb 25, 2008
Messages

65,724
Aliens™ Video Slot Review At ComeOn! Casino (NetEntertainment)
Aliens™, which is the latest released video slot at ComeOn! Casino has a
futuristic look about it and has an an outer space theme. This online
video slot has 5 reels and 15 paylines, has 3 different levels and is powered
by NetEntertainment Gaming Software. I found this slot extremely complicated
and difficult to follow all the rules. The images are of very gruesome
looking aliens and a wild logo. The wild symbols only appear on reels 2-5 in
Level 1: The search, and randomly anywhere on the reels and in Level 2:
The Encounter only, excluding the overlay Ammo Clip reel.



Level 1 is called The Search and you will need to scan the infested premises for alien
activity, as shown on the Alien Activity Meter. If the Alien Activity Meter reaches
the maximum, an order to attack the area is issued and you will advance to Level
2. Successfully completing Level 1 with the highest multipliers sets you up for
huge wins in Level 2. All symbols included in a win, except for the wild symbols,
are added to the Alien Activity Meter and increases the multiplier by 1. The
multiplier amount for each symbol is displayed above the Alien Activity
Meter and on the symbol on the reels. Any additional wins on collected symbols
further increase the multiplier.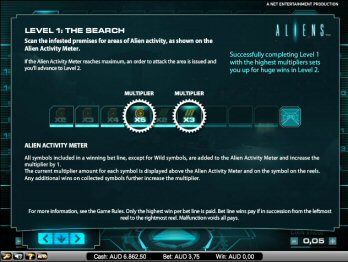 Level 2 is called The Encounter and you will need to fight your way through
waves of Alien attacks to reach the Queen Hive, but you will need to be
careful of running out of ammunition or the game will be over. Alien Hunt
All multipliers collected in Level 1 are transferred into Level 2 and apply to
wins on the symbols shown only. You will need to stay alert and look out for
the symbol overlay function combined with a multiplier, which can generate
massive wins. Each new spin activates a bet line with 3 new symbols, from the
lowest to the highest symbol level. The Ammo Clip reel contains Ammo symbols
which appear randomly in the centre position of the reel increasing the Ammo
Clip Counter, activating respins. The Ammo Clip Counter displays the amount
of Ammo Clips available and will decrease by 1 following each spin, after shooting
to defend against the Aliens.

Level 3 is called The Hive and your objective is to destroy the Queen and her
Hive before the Aliens get you and if you are lucky you can do this with one
single grenade. At the start of the level, the Ammo Clip Counter is loaded
with 4 Ammo Clips, which award 5 respins. Damage is randomly caused to
the Hive by the grenade's strength combined with the multiplier for each
spin. The strength can vary and is randomly generated on the reel. Multipliers
will appear randomly in the centre position of the multiplier reel and multiply
the damage amount by 1-10 times. The Hive Health Meter will display the
amount of damage to the Hive, the Health Meter has 4 steps and when the
Hive level ends, a coin win amount corresponding to the number of steps
completed is awarded.

New players to ComeOn! Casino are eligible for a welcome bonus consisting
of 100% up to €300.

Terms and Conditions



​
Last edited: