Gold Rush At Box 24
2nd - 15th July
A 24-Carat
Tourney
!
— Auto-Enrollment —
There is a golden opportunity in our Gold Rush tournament!
We are going for gold this July and you can join us in this tourney by
depositing A$50 and playing the selected games: Ancient Giants, Dragon
Wilds, Amazing Kong, Book of Darkness, Chilli Pop and Stacked! We'll be
awarding you points as follows:
- 5 points for a win
- 15 points for 3 consecutive wins
- 20 points for 3 consecutive losses
- 150 points for a big win (10x stake amount)
*Please note a minimum bet of A$0.40 is required in order to collect points.
PRIZES
1st Place A$7,500
2nd Place A$4,000
3rd Place A$2,000
4th Place A$1,000
5th Place A$500
Good luck in the Gold Rush!
— Contact our Live Chat team for your special Happy Hours Multipliers! —​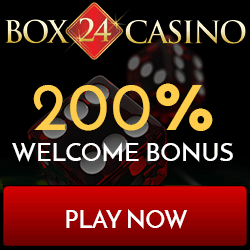 ​
​