Heavenly Reels Slot Reviewed At WinADay Casino
Heavenly Reels slot is a 3 - reel, 4 - payline slot found at WinADay Casino. This casino is a part of
Slotland Entertainment. With this heavenly slot you could feel you were in seventh Heaven! You
can wager from .25 a line up to $4 a line and you can bet from one line up to all four lines making a
maximum bet of $16. This WinADay slot also lets you have two spins for every bet you make.





To begin you make your bet. There is a Hi / Lo button. To make one of the lower bets click the Lo
button and for the higher bets, click the Hi button then choose the denomination you wish. Next
you will have to choose one to four lines to play. Click on each reel you would like to play. You can
also make different bet amounts on different reels if you would like.
A round on Heavenly Reels consists of two spins. Spin the first time, evaluate which reels you would
like to hold, click on the yellow arrow to save the reel or reels and then spin again.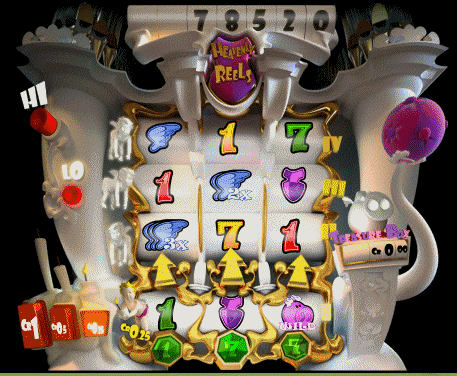 Different combinations will give you different payouts so be sure to check the paytable. In this game
you must get the symbols green 1 - green 7 - green 1 in all four paylines to unlock and win the treasure
that is displayed on the side in the Treasure Box.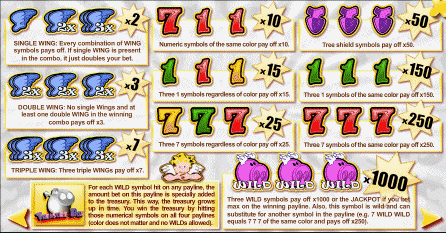 I thought overall this was a cute slot. I won small amounts pretty often but nothing big to speak of. Also
the music reminded me of sitting in a church and the music they play while waiting for a wedding to start
I found it irritating and turned the sound off eventually. One great thing is USA players are welcome!

This is Online Gambling at its finest!


$500 REGISTRATION BONUS!

Register and deposit as little as $25 or as much as $250 and we will match your first 5 deposits in total up to $500!

1st Deposit 100% up to $100.00
2nd Deposit 25% up to $62.50
3rd Deposit 25% up to $62.50
4th Deposit 25% up to $62.50
5th Deposit 85% up to $212.50
​
Last edited by a moderator: