Joker's Tricks is a 5 reel video slot with a whopping 20 paylines, only available at Win a Day casino.
The proprietary software used requires no download, so the games run very smoothly and there's
no hassle or troubleshooting involved. The slot features familiar card style symbols, free spins, wild
substitutes, and chances to double your winnings. And of course, there's the Joker, who will help
you get some big wins but sometimes may try to foil your plans.



To start playing, spin those reels to get three or more of the same symbol adjacent to each other.
As is standard with other slot machines, you can press buttons to increase the number of paylines
you want to use and increase or decrease your bet. A handy payoff chart is to your right for reference.


So, what makes this slot particularly exciting? If three free spin symbols appear at once, you get a
free spin. The neat thing is that they don't have to be adjacent to each other, so the free spins land
pretty frequently. Three free spins interact with the tricks you collect. In order to get a trick, three Joker
symbols have to appear and yet again, they don't have to be adjacent to each other. When this occurs,
you'll get a chance to get one of three tricks, a Double Wild, Expanding Wild, or Double Win. These
three modifiers will affect all of your free spins! So, the strategy is to collect as many free spins and
modifiers as you can and then hit the free spin button. This way, you'll maximize your chances.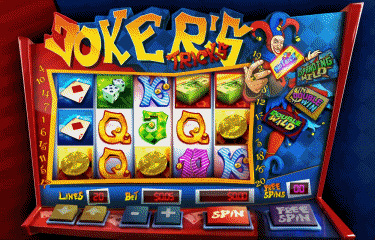 But beware! There's a chance that you will lose all your tricks when three jokers appear. So, the skill is
striking a balance between collecting tricks and not getting tricked by the Joker himself. There's also a
Stop symbol, which will cause your free spins to end.


So, what are these trick modifiers? The Double Wild symbol is wild and substitutes other symbols on a
payline. And it doubles your win on the payline. The Expanding wild symbol expands onto the entire reel
and substitutes other symbols on a payline. Finally, the Double Win doubles all wins during the free spins.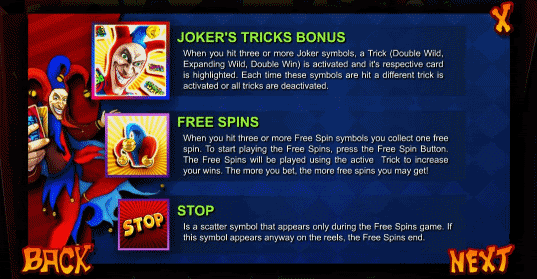 What I really enjoyed about Joker's Tricks is the gameplay combined with the aesthetic. The colors are
pleasant and the animation is really fluid. I loved watching my symbols come to life as I lined up a win.
The free spins are excellent and the modifiers really make the whole game super exciting. I highly recommend
you check out Joker's Tricks at Win A Day. You can sign up and try some spins for free, so you've got
nothing to lose.
​
Last edited by a moderator: