BREAKING NEWS - L.N.N. IS HERE!​


Lucky Nugget Casino's latest slot could be good news for you!

Here's a news flash from the games room at Lucky Nugget Casino - there are great winning opportunities available now on our latest 5 reel 20 pay-line video slot LUCKY NEWS NETWORK.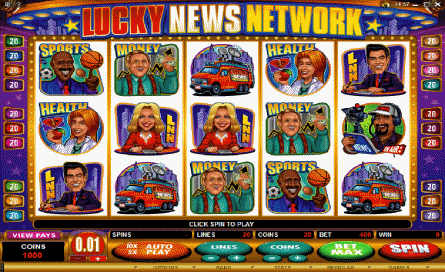 This major new slot incorporates the best of the American-style second screen bonus game, combining it with the big game feel of the Australian Free Spin awards, all powered by one of the fastest, smoothest slot software engines on the Internet.

Lucky News Network captures the fast paced urgency of today's hectic 24-hours-a-day news delivery in a theme that features outside broadcast units, studio crew and a range of charismatic presenters and anchorpersons which colorfully set the scene for newsworthy wins.

This 5 reel, 20 pay-line thriller of a slot offers Scatter and Wild advantages, Bonus picks, Multipliers and Free Spins with up to 5x multipliers, enabling the player to not only succeed and win, but enjoy hours of entertainment on a quality video slot with a wide betting range.



Get the Bonus Bulletin symbol on reels 1 and 5, and wallpaper a second screen with 15 Bonus Bulletin Symbols to pick from and win a mystery prize….or another additional pick. Then there are those generous 20 Free Spins, which can yield up to 5x the total bet or create an instant bonus with a 157x multiplier. Bonus Bulletin acts as the Scatter symbol, enhancing the opportunities for reward.



The Lucky News Network logo is another one to watch out for, acting as the Wild and empowering the player to build winning combinations.

Lucky News Network debuts this week at Lucky Nugget Casino - make sure you tune in for some exclusive wins!
​