Joined

Feb 25, 2008
Messages

65,653
Slotris Slot Review At Slotland Casino
Slotris online slot is a tetris style game available at Slotland Casino.
Betting starts at 50 cents per spin and rises to $5 per spin. Slotris has a
progressive jackpot attached to it, which can be won by getting ten of the
cross symbol and betting the maximum on the 10th line.



There are two ways of winning on slotris, the first is by lining up three
symbols of the same colour on the main payline and the second by making
horizontal lines. There are two game areas, the slot machine, where the
symbols are generated which are then played inthe slotris game, the second
part of the game. To win you need to line up three symbols of the same
colour, these symbols are always the same shape. The payout is based on
the amount of your bet and colour of the symbols according to the pay table.
You can win up to 30 times your bet on the main payline.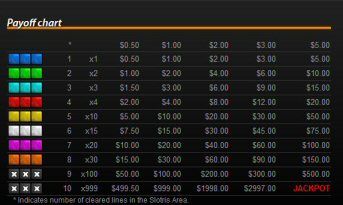 Before you begin spinning the next round, look at the slotris area, as you can
choose which symbols will drop first on your next spin. If you clear lines before
your symbols reach the top of the slotris area, you can cash in on some good
pay outs as well as winning on the main payline in the same round.

Symbols from the current spin are shown in the upper preview area of the game.
You can change which way the symbols fall by clicking one of three symbols on
the main payline or radio buttons below the main payline. If you can create a
solid horizontal line in the slotris bonus game, a payoff indicator below the game
will display any possible payouts based on the current order of symbols, so it
pays to switch the symbols around to see if you can clear a line and win some cash.

When you have cleared a horizontal line, on your next spin all the symbols below
that line will also be cleared. Also, your slotris field is shortened by one horizontal line.
If you cannot clear a line before any symbol reaches the upper part of the game
and the game resents, all symbols are cleared and you start again from the bottom.
If there is not space in the preview part of the game, the symbols from the current
spin are not displayed, but you can still decide which symbol should fall first on
your next spin. The object of the slotris game is to clear 10 slotris lines before
the game resets. Each cleared line increases your winnings.

New players to Slotland Casino are eligible for a welcome bonus of
100% match up to $100 on your first deposit and then 50% match
bonuses up to $100 on your 2nd to 10th deposits.


​