Viking Runecraft Video Slot Review By Play'n GO
Viking Runecraft video slot is available at Leo Vegas
Casino and powered by Play'n GO software. This online video
slot has a 7 x 7 grid and is available on desktop, mobile and
tablet devices.

<iframe src="https://fast.wistia.net/embed/iframe/vyb7u7rj2a" title="Wistia video player" allowtransparency="true" frameborder="0" scrolling="no" class="wistia_embed" name="wistia_embed" allowfullscreen mozallowfullscreen webkitallowfullscreen oallowfullscreen msallowfullscreen width="500" height="359"></iframe>
<script src="https://fast.wistia.net/assets/external/E-v1.js" async></script>

The game uses cascades where every time there is a winning
combination, the symbols are removed and new ones fall into
place, this continues until there are no more winning
combinations.

Every time there is a winning combination you will have access
to four charge of destruction features. These features are Surtr,
Ragnarok, god of thunder and the god of guarding.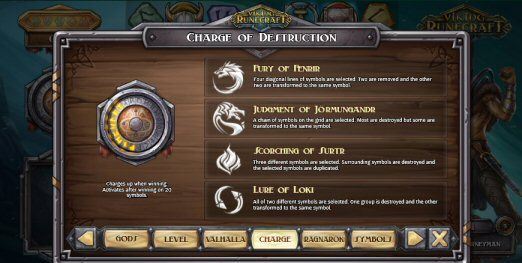 The symbols are Norse themed icons, a hammer, a helmet, an
axe, necklace and several different runes. Wins are achieved
with 5 or more matching symbols as long as they are touching
horizontally and/or vertically. Winning symbols are removed and
new ones fall down to fill the gaps.

There is the gift of gods feature which has a chance of being
triggered on non-winning spins. The spins continue normally
after the feature. There is Thor, where lightning strikes the grid
creating 5-9 wild symbols. Odin where 4 wilds are created in
groups of two. Freya has a light which creates wild symbols
in four clusters until at least one win is achieved. Heimdall
has one wild symbol created on each row. You can win up to
5000 times your bet, not including the growing bonus.

Win on the five different rune stone symbols to collect them and
collect at least one rune stone and clear the current pattern
to trigger the runes of valhalla bonus feature. Collected runes
stones will trigger winning spaces on the bonus wheel. Win
the bonus by hitting any of these activated winning spaces
on the bonus wheel. The bonus amount win is shown in the
runes of valhalla bonus display. The bonus grows by 12% of
symbol win amounts.

When the charge of destruction feature is triggered you will
play one of four features, they are fury of Fenrir, judgment of
Jormungandr, scorching of Surtr or lure of Loki.

Fury of Fenrir is where four diagonal lines of symbols are
selected. Two are removed and the other two are transformed
to the same symbol. Judgment of Jormungandr is where a
chain of symbols on the grid are selected. Most are destroyed
but some are transformed to the same symbol. Scorching of
Surtr is where three different symbols are selected. Surrounding
symbols are destroyed and the selected symbols are duplicated.
Lure of Loki is where all of two different symbols are selected.
One group is destroyed and the other transformed to the same
symbol.

Win on 20 additional symbols after triggering any charge
of destruction feature to activate the Ragnarok feature.
Win on 40 symbols before triggering the charge of
destruction to activate the Ragnarok feature.

During the free bonus feature, whenever no more wins
are achieved, a charge of destruction feature is triggered.
Each feature triggers once. The Ragnarok feature ends
when all features have triggered. All winning symbols
during the Ragnarok feature increases the multiplier charge
up to 15 times.

This video slot is not one that I would play again, I just
found all the rules confusing. Another slot you may like
to try is Samba Carnival.

New players at Leo Vegas Casino are eligible for a very generous
welcome bonus which consists of €1600 and 300 extra spins over
your first four deposits.

<a href="http://ads.leovegas.com/redirect.aspx?pid=136209&bid=7649&lpid=6"><img alt="" src="http://ads.leovegas.com/media/201601051322_468 x 60 - Joker6000 - Web - English NL.jpg" border=0/></img></a>
​
Last edited: