Genesys Soccer Samba Promotion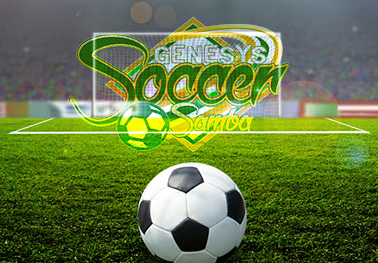 KICKOFF
Welcome to the Genesys Soccer Samba, where it's all about the spirit of play, and the biggest fans stand to win, and win big!

For the next few weeks, we're giving away great bonus monies, free spins and spot prizes at our online casinos in a whole range of Soccer-crazy ways!

Grab your team jersey, your face paint, and your maracas, and meet us at the bleachers for some awe-inspired gaming.

OFFERS
Get your game on with a match for every match – plus free spins the following day from now up to 14 July!

How to claim your daily match
Get into the rhythm of things by claiming each offer in honor of the team that you believe will win the next game, and we'll give you free spins whether they win, lose or draw!

EXAMPLE:

Soccer Match: COUNTRY1 VS COUNTRY2
Match Offer: 120% up to $120
Bonus Codes: COUNTRY1 or COUNTRY2 (Pick one Bonus Code)

You'll be given two bonus codes for every match offer (see example)
Each code will represent the teams that will be playing in an upcoming game
Select ONE of the 2 bonus codes provided to claim your match offer (pick the one that you believe is set to win their next game).
If the team you selected wins their game, you will receive the biggest amount of free spins available the following day!
You may not claim the same offer twice by entering both of its bonus codes. This will disqualify you from the free spins offer once the game results are out.

The kick–off game is on 12 June. Your first email offer will arrive on 11 June. Good luck!

DAILY FREE KICK
We're bringing the excitement of the beautiful game to you, round after round of play! Our Genesys Genie will be awarding free kicks to 14 lucky players every day! To qualify for yours on any day, you will need to have made a deposit at our casinos the day before. Be sure to login in to your casino daily and check to see if you have won a free kick bonus!

GENESYS CUP TOURNAMENTS
$1200 in prizes weekly | Free entry to all players

Take the cup home every week during Genesys Soccer Samba! Join our tournaments below and play to win!

<a href="http://www.grandeaglecasino.com?rt=4ffe0617-9407-49cc-90be-d608dcef4cc3-3055" target="_blank"><image src="https://ads2.GenesysAffiliates.com/GrandEagle.gif?cmt=4ffe0617-9407-49cc-90be-d608dcef4cc3-3055" alt="GrandEagle" /></a>
<a href="http://www.luckycreek.com?rt=8ac62fb9-86d4-4722-aece-c8d9de5bcee7-3058" target="_blank"><image src="https://ads2.GenesysAffiliates.com/LuckyCreek.gif?cmt=8ac62fb9-86d4-4722-aece-c8d9de5bcee7-3058" alt="LuckyCreek" border="0"></a>
<a href="http://www.mandarinpalace.com?rt=a97677a9-cfa1-4d50-96c6-85078d96cbee-3052" target="_blank"><image src="https://ads2.GenesysAffiliates.com/MandarinPalace.gif?cmt=a97677a9-cfa1-4d50-96c6-85078d96cbee-3052" alt="MandarinPalace" border="0"></a>
<a href="http://www.treasuremile.com?rt=521058f2-d57d-42ec-a968-aaf8ddbc084d-3049" target="_blank"><image src="https://ads2.GenesysAffiliates.com/TreasureMile.gif?cmt=521058f2-d57d-42ec-a968-aaf8ddbc084d-3049" alt="TreasureMile" border="0"></a>
​
Last edited by a moderator: