KING ARTHUR​


King Arthur is a Playtech Software Slot game that can be found at Bet365. It is a 5-reel, 20-line slot machine game that includes scatter symbols, Wild symbols and a bonus game round.

A great feature in this slot machine game is something called "Reverse Play". If you think that the next spin will have no wins, you can play the Reverse play mode where you will win if there are NO winning lines or scatters. There are also x2 bonus wins on the wild symbols, which mean you can multiply your normal winnings for that line up to x32.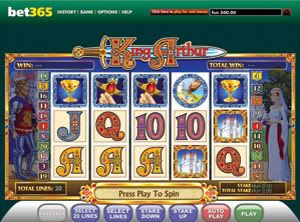 Bonus Round
If you win 3, 4 or 5 Camelot symbols on a win line, you will enter the bonus game. You can choose to play the bonus game, collect your winnings and close the bonus game, or collect half and play the bonus game with half of your winnings as your stake.

If you choose to play the bonus game, depending on which door King Arthur chooses to enter Camelot, you can multiply your winnings by up to 4 times. Click "Play" to start the game, then choose whether King Arthur should take the left or right path by clicking on "Stop" as the signpost flashes "left" or "right". If you win, you can either collect, collect half or continue playing the bonus game until you lose.

​