Mystery at the Mansion Video Slot
Mystery at the Mansion at Whitebet Casino is for you with a little detective inside or if you just looking for a little mystery.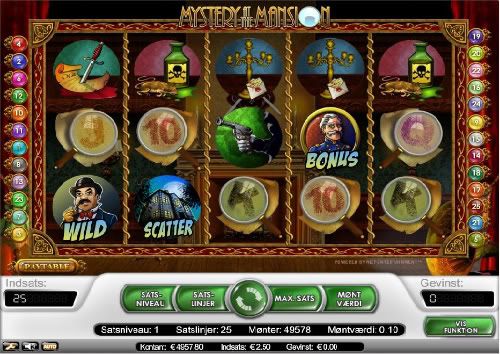 You will find 5 reels with 25 paylines. A minimum bet of €0,01 and a maximum bet of €50. Getting five wild symbols
on any payline will give an amazing 7500 X bet. In this game there are four diffrent bet levels and the feature
"autoplay" with
up to 1000 free spins
.
Symbols that will appear in the game are a gun, poison, a knife and a candlestick. Scatter is a mansion,
Bonus symbol is Colonel and Wild is Sherlock Holmes himself.
Free Spins
You can get up to 30 free spins when hitting three or more scatters. During free spins all winnings are tripled
except for wins in the bonus game. Free spins can be re-triggered, with wins like this you might be able to
withdraw
some big winnings!
Bonus Game
To get to the bonus feature you have to hit three or more bonus symbols on any payline, and here the excitement
begins. You have to solve a murder.
First you have to choose who you think the killer is. The choice is between the butler, the made, the gartner,
the gentleman or the misses.
Second you have to choose which weapon there was used for the kill. Was it poison, a gun, a knife or the candlestick?
Last..Was it for love or money? Solve the case and make the
news
!
You will win a bonus prize for every guess. If your guess is correct the prize will be multiplied with two.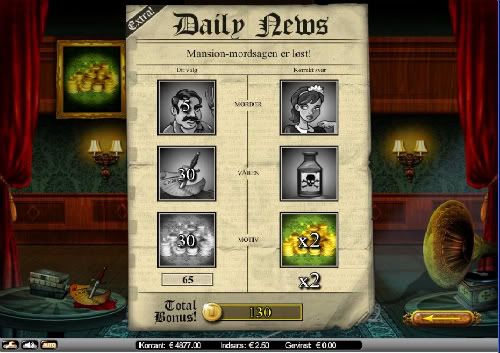 Like every other game from
NetEnt Gaming Software
this is really worth a spin.
You will get a lot of excitment with the excellent graphics and sounds.
And don´t forget to take advantage of the 100% Welcome Bonus at
Whitebet Casino
!
Enjoy!!​
​


<object width="425" height="344"><param name="movie" value="http://www.youtube.com/v/neVAWTNcDlc&hl=en_US&fs=1&"></param><param name="allowFullScreen" value="true"></param><param name="allowscriptaccess" value="always"></param><embed src="http://www.youtube.com/v/neVAWTNcDlc&hl=en_US&fs=1&" type="application/x-shockwave-flash" allowscriptaccess="always" allowfullscreen="true" width="425" height="344"></embed></object>​
<img src="http://img.photobucket.com/albums/v448/CareyG/whitebet.gif" border="0">
​