Phantom Cash Video Slot From Red Flush Casino
The Phantom Case Video Slot is a 25 line new Video Slot with Wild symbols appearing on reel 1 and 5 only
and a variable amount of Free Spins based on how many ghosts are captured.






Are you ready to zap some cash? This 25 line Steam Punk themed slot will raise the hairs on your head
with excitement and thrill! With the aid of the two WILD ghost hunters, Thurmingham on Reel 1 and
Carstairs on Reel 5, awarding a 2x multiplier during substituted wins. These gentlemanly paranormal
experts will assist you by zapping ghosts in the Free Spins feature, winning a Bonus Prize for each ghost
they capture.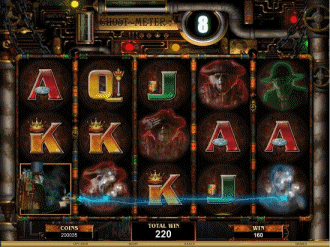 Are you worried about crossing the streams? Don't be. Zapping a ghost with more than one stream
only increases your winnings by doubling the Bonus Prize for the capture of that ghost!

A retrigger will see your ghost meter purged thus allowing additional space for capturing more ghostly
ghouls, meaning more Free Spins and more chances for extra ghost capture Bonus Prizes!

This new Microgaming Video Slot can be found at Red Flush Casino and many other great Microgaming
Online Casinos.
​