Joined

Feb 25, 2008
Messages

65,724
Sugar Pop Video Slot Review By Betsoft
Exploding candies feature in the video slot called Sugar Pop
available at Drake Casino and powered by Betsoft Gaming.
The symbols are all different types of candies including caramel
chew, candy cane, chocolate, gumdrop, jawbreaker, jelly beans,
lollipop, white chocolate surprise and special candies.




There is a five by five arrangement of the candies rather than
normal reels and each spin will cascade. When looking at the
screen players will see under the words sugar pop on the left,
the level that they are currently on, the current bonus pattern
the level score and the game score.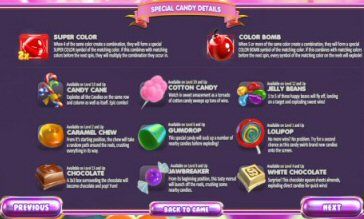 When 3 or more candies touch horizontally or vertically it will
cause a winning combination, but if they player has 4 or 5 of
a matching color it will result in special candies being created.
When a winning combination does occur they will pop and more
candies will cascade from above and hopefully cause more winning
combinations.

When 4 of the same colour cause a winning combination it will
form a special super colour symbol of the matching colour and be
multiplied. When 5 or more of the same colour cause a winning
combination it will form a special Colour Bomb symbol of the
matching colour. If this combines with matching colour before
the next spin, each symbol of the matching colour will explode.

The object with this online video slot is to earn points to reach higher
levels, there is a meter beside the reels which will show players
how far up the current level they are. Some levels will unlock new
special candies not available previously. Also, there are 4
different worlds which contain 5 levels each giving a total of 20
levels.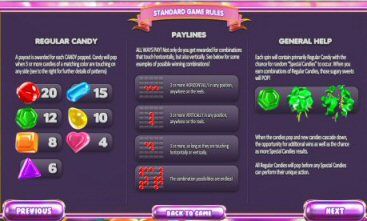 There are also bonus patterns which players can earn by getting
exploding candies in the positions indicated in the bonus pattern.
The bonus pattern can be seen in a circle to the left of the reels.
Clearing the bonus pattern will gain the player an additional 600
points towards their level score depending on the current level.

Special Candies may be created by a combination in the case of
super colours and colour bombs or may just occur randomly among
other cascading candles. When a super colour or colour bomb
combine with their matching colour, the resulting feature is
immediate for all other special candies, all chains will be resolved
prior to the super candy's special functionality to being.

The lollipop is available on Level 1 and above and gives player
a second chance as the candy swirls brand new candies onto
the screen. The Caramel Chew is available on Level 2 and above
and from the starting position it will take a random path around
the reels, crushing everything in it's way.

The White Chocolate is available on Level 4 and above and the
chocolate square shoots almonds exploding direct candies. The
Gumdrop is available on Level 6 and above and this candy will
suck a number of candies up that are nearby and then explode.

The Jawbreaker is available on Level 8 and above and it will
launch off the reels from it's starting position and crushsome
candies that are nearby. The Candy Cane is available on Level
10 and above and it will explode all the candies that are on the
same row and columns as itself.

The Jelly Beans are available on Level 12 and above and 1-5 of
these beans will fly off landing on a target and exploding some
wins. The Chocolate is available on Level 15 and above and a
3x3 box surrounding the chocolate will turn into chocolate and
then pop. The Cotton Candy is available on Level 20 and above
and a tornado of cotton candy will sweep up tons of wins.

New players to Drake Casino are eligible for a welcome package
which consists of 100% up to $5,000 Welcome Bonus over the
first 3 deposits.

First deposit, 100% up to $2,000 bonus
Second deposit, 100% up to $1,000
Third deposit, 100% up to $2,000


>
​
Last edited: