Scarface™ Video Slot Reviewed at ComeOn Casino


The Newest Video Slot Net Entertainment is Scarface™ This video slot is a 5 - reel, 20 - line
slot based on the popular movie by the same name.
Enter the underworld of Tony Montana.

<object width="454" height="276">



<embed src="http://csp.picsearch.com/players/rutile.swf?config=http%3A//csp.picsearch.com/playlist%3Fauth%3DhPMo5_ZLKYyPn0TqPwxZ8ud6ZW8tjxsIAnMw7wfpC_LJk9r2Uzv1xMwnGjrF6ZqTGoOibs_rH623Vq-BepPSZkO9ia13sr5V" type="application/x-shockwave-flash" quality="high" allowfullscreen="true" allowscriptaccess="always" wmode="transparent" width="454" height="276"></object>


Scarface is packed with features including 3 Stacked Wilds on 3 different reels that activate Nudge
Spins, Free Spins, plus a brilliant Bonus Game! The Stacked Wilds appear only on reels 2, 3 and 4.
A Stacked Wild substitutes for all symbols, except other Stacked Wilds.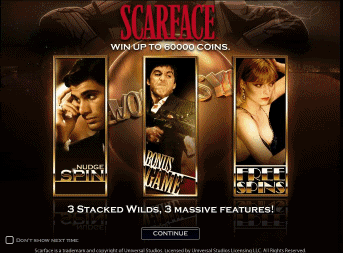 A full Stacked Wild appearing on any of the reels also activates its corresponding game feature.
Reel 2 = Nudge Spins
Reel 3 = Bonus Game
Reel 4 = 15 Free Spins
All Stacked Wilds can appear during free spins!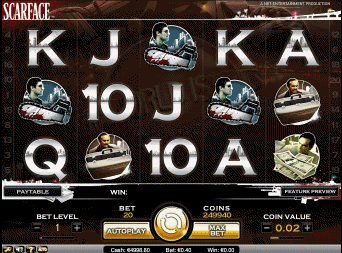 Nudge Spins

Getting a full Stacked Wild on Reel 2 will activate the Nudge pins Feature. The Nudge Will will be
"nudged" down and the while the other reels respin. Then it happens once more. If the Free Spins
are won during the Nudge Spins, the Nudge Spins continue in Free Spins. If the Bonus Game is
activated during Nudge Spins, Nudge Spins will continue after the Bonus Game. Nudge Spins end
when there are no more Nudge Wilds on the reels.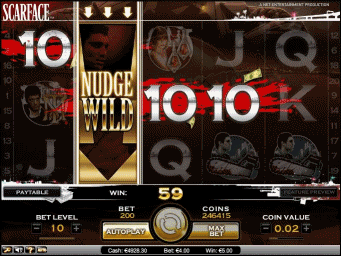 Free Spins
If you should get a full Stacked Wild on reel 4, you will activate 15 Free Spins. Any Nudge Win won
during the Free Spins will pay 3X the winning amount.
Getting another Full Stacked Wild during the Free Spins activates 15 MORE Free Spins.

Bonus Game

The Bonus game is activated by getting a Full Stacked Wild on reel 3. You are taken to a to the
Bonus Game and Tony's gun is loaded with either bullets to kill the enemy in the square you choose.
Or with Grenades to kill the enemy in the square you choose and also enemies in adjacent squares.
Only one Bonus game is awarded per spin. The Scarface Video Slot Bonus Game is played with 1 of 450 scenarios and
the maximum coin win in any scenario is 8000.This game was a lot of fun with a lot of action in it. One
thing I was not real fond of though was all the blood, lol. There are even blood splatters on the game
as you are spinning the reels. Then you have to kill people in the Bonus Game.





Check out ComeOn Casino and get in on their 100% Welcome Bonus up to 25 Euros along
with many other deposit bonuses!


​
Last edited by a moderator: